The Sustainable Food Partnership proudly hosted the first Bradford Good Food Strategy Symposium on November 13th to formally launch the district's new food strategy.
110 people attended the event along with a panel of expert speakers to discuss and understand the complexities of the food system and encourage everyone to become advocates of good food.
Putting accessible and nutritious food for all at the heart of policies and actions is key so attendees were asked to recognise their organisations, services or department's role to play (No matter how small!) can make a difference to the collective effort.
The event saw the launch of a new promotional video to help engage residents from across the district in improving the food system. To watch the video click here and to see our top tips on ways you can improve the food system click here.
We also launched a toolkit for local partners and organisations to understand their role. To access the toolkit click here.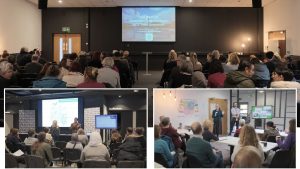 Attendees were asked to submit a poster before the event to promote the great work they're doing, including projects, case studies, good news stories, research, and other actions relating to the new good food strategy outcomes;
Creating an Eating Well Culture – developing knowledge and skills, and access to healthy affordable food.
Tackling Food Insecurities – increasing access to, and availability of, healthy fresh low cost food.
Community-led Food Growing – sustaining and expanding local food production.
A Sustainable Food System For All – creating a resilient and sustainable food system which protects bio-diversity and reduces the impact of climate change.
There were 14 fantastic posters submitted in the following four categories with winners of each category selected on the day:
Creating an Eating Well Culture
Winning poster by: Bradford District Care Trust Library & Health Promotion Resource Centre
Reducing Food insecurity
Winning poster by: Fair Food Futures York Uni
Community Led Food Growing
Winning poster by: Grow bag Grow to school
Creating a Sustainable Food System For All
Winning poster by: Compostit
Click to view the posters:
Bradford Uni Weight Loss Intervention – Creating An Eating Well Culture
Bradford Uni Takeaways – Creating An Eating Well Culture
Compostit – Creating A Sustainable Food System For All – WINNER
Fair Food Futures York Uni – Reducing Food Insecurity – WINNER
Grow Bag Grow To School – Community Led Growing – WINNER
Heathly Eating Bradford District Care Trust Library & Health Promotion Resource Centre – Creating an eating well culture – WINNER
Cooking Innchurches – Creating An Eating Well Culture
KHL Eat Well For Less – Reducing Food Insecurity
Trees For Cities – Community Led Growing
Trauma Informed Eating Well WYHCP – Creating An Eating Well Culture
Swap Well Healthy Eating Campaign – Creating An Eating Well Culture
RiC Schools – Creating An Eating Well Culture
LW Faith Settings – Creating An Eating Well Culture
LW children and families service – Creating An Eating Well Culture (to follow)
Find out more about the Bradford Sustainable Food Partnership